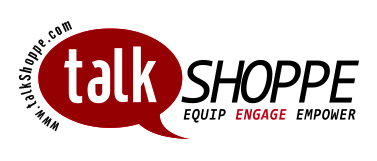 Talk Shoppe
WHO WE ARE AND WHAT WE DO
Currently Talk Shoppe is meeting virtually Weds 9A-10:30A at https://us04web.zoom.us/j/5087794464
Talk Shoppe (TS) offers FREE Business Networking opportunities in a POSITIVE and NON-COMPETITIVE environment. We welcome attendees and are open and accepting of any legitimate (lawful) business venue, large or small.
Meet people from similar and varying career fields and build professional relationships that will positively impact your long-term objectives and bottom line.
We adhere to a structured meeting format that provides each person an opportunity to briefly share about yourself and your business with an opportunity to build some enriching business relationships by practicing B.A.M.F.A.M. (Book A Meeting From A Meeting)  in our virtual break out rooms following the main presentation.
Increase your knowledge base, hone your business acumen, and broaden your professional resources by attending Talk Shoppe.  We provide a stimulating lineup of educational presentations from experts in their fields.  Many of our presentations qualify as credit for BNI Continued Education Units (CEU).
We believe that, in addition to professional development, personal growth is essential to the equation of success.  With that in mind, TS offers uplifting, encouraging, and motivational snippets during Talk Shoppe sessions.  Also, in addition to having educational speakers during the Wednesday sessions, Talk Shoppe often will dedicate a session for breaking into small groups to practice the Mastermind Principle from the book by Napoleon Hill, Think And Grow Rich.
Talk Shoppe's modest operating expenses are offset by the generosity of our Sponsors and Supporters. In return they receive free advertisement on our media platforms, additional time to promote their business, monthly Think Tank Sponsor Training and a personalized session with a Professional Business Consultant.  Let us know if sponsorship is of interest to you! For more information about being a part of the Talk Shoppe Sponsor Team go to:  http://talkshoppe.com/advertising-2/
There is power in giving to others. Talk Shoppe's charitable fundraisers go to support the children from the Neighborhood Christian Center. Talk Shoppe members can voluntarily participate, in part, by purchasing Split-the-Pot tickets upon arrival at the sign-in table.  Drawings are done at the end of each session and the winner receives half of that day's collection.
Like us on Facebook at www.facebook.com/talkshoppememphis
Tweet about us @TalkShoppeTN